LiveU Solo is a professional-grade wireless video encoder offering one-touch streaming to popular social media networks. Stream your LiveU video with real-time overlays from Singular.
Prepping the Overlays
Before you can output your overlays with your LiveU video, you have to prep them in Studio. If you already know how to do this, skip this step.
Preparing Your Singular Overlays in Studio
A - Log into Singular, Download a Theme
Sign up for Singular (if you haven't already), log in to your Dashboard, and download a free theme from the Marketplace. To access the Marketplace, hit the "New" button in the upper left corner and select "Market".
Selecting "New" and then "Singular Market"
Downloading a theme
If you need a more thorough explanation, check out a quick tutorial on how to do the previous steps, here. 
B - Open up your theme into Studio, prepare your overlays.
Right click on your newly downloaded theme, select "Open with" and then choose "Studio". This is the Control Application you will use to prepare and operate your live overlays.
Right clicking on theme, selecting "Open with" and then choosing "Studio"
Prepare your overlays by choosing the "Auto Playlist" button from the three dot menu in the upper right corner and then updating the contents of the overlays within the Overlay Editor.
Selecting "Auto Playlist"
Editing overlay contents in the "Overlay Editor"
To learn more Studio overlay operation tips, click here. 
Outputting with LiveU Video
The following is a tutorial on how to get on-air with Singular overlays & LiveU video.
Log in to your Solo Portal
2 - Make sure your LiveU device is online and ready to go
Have your device prepped
3 - RTMP Destination to Lightstream
You can set your LiveU Destination to RTMP and send it to Lightstream in order to add your Singular overlays on top of your live video.
A - Log into Lightstream Studio
Log into your Lightstream account or sign up at golightstream.com
B - Add "RTMP Source" Layer in Lightstream (for your LiveU video)
Add an "RTMP Source" Layer
Get ready to copy the Ingest Key and Stream Key to paste into LiveU. The "Copy" button is designated for copying the Stream Key and the "Copy Ingest URL" text is to copy the Ingest Key.
RTMP Ingest and Stream Keys in Lightstream
C - Prepare the "RTMP Generic" Destination in LiveU 
Choose the "RTMP Generic" Destination option in LiveU, give your Destination a name, set the Profile size, and paste in your Ingest Key and Stream Key from Lightstream. You can ignore the "Secondary Ingress URL" box. 
Make sure to set your Profile to 720p at 30fps at most. Setting a higher quality will require a paid subscription level in Lightstream.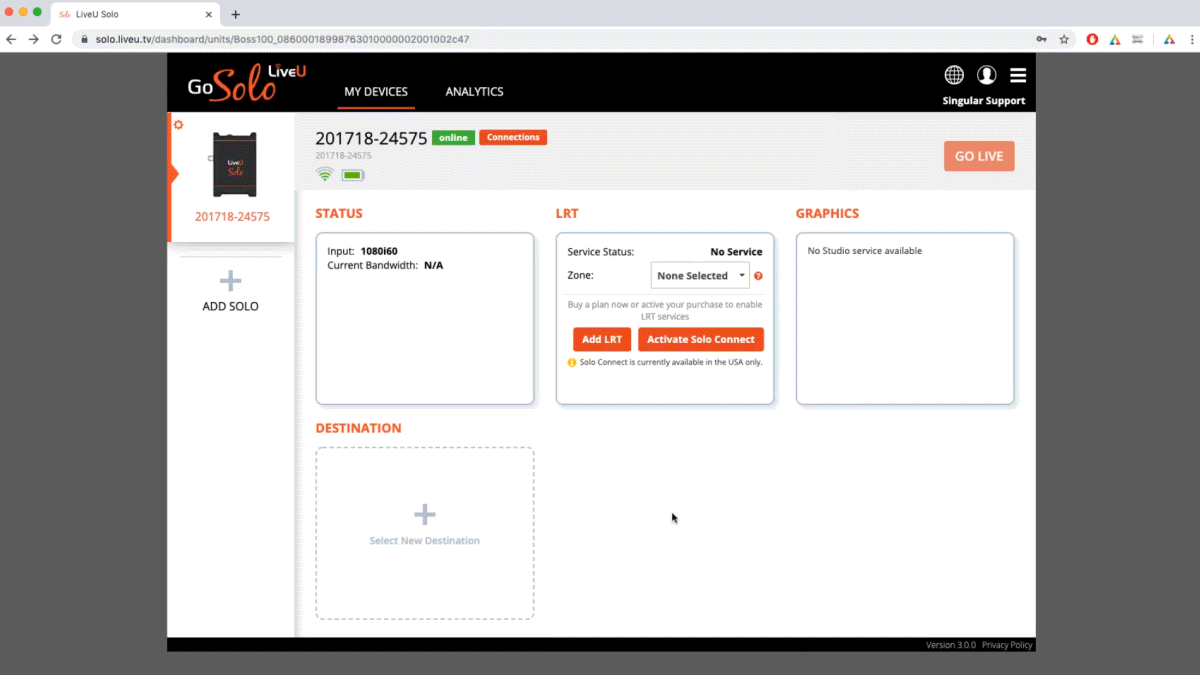 Prepare LiveU RTMP Settings
Prepare LiveU RTMP Settings
D - Select "GO LIVE" in LiveU
Now that all the RTMP settings are ready, select the "GO LIVE" button in the upper right corner to start going live with your video.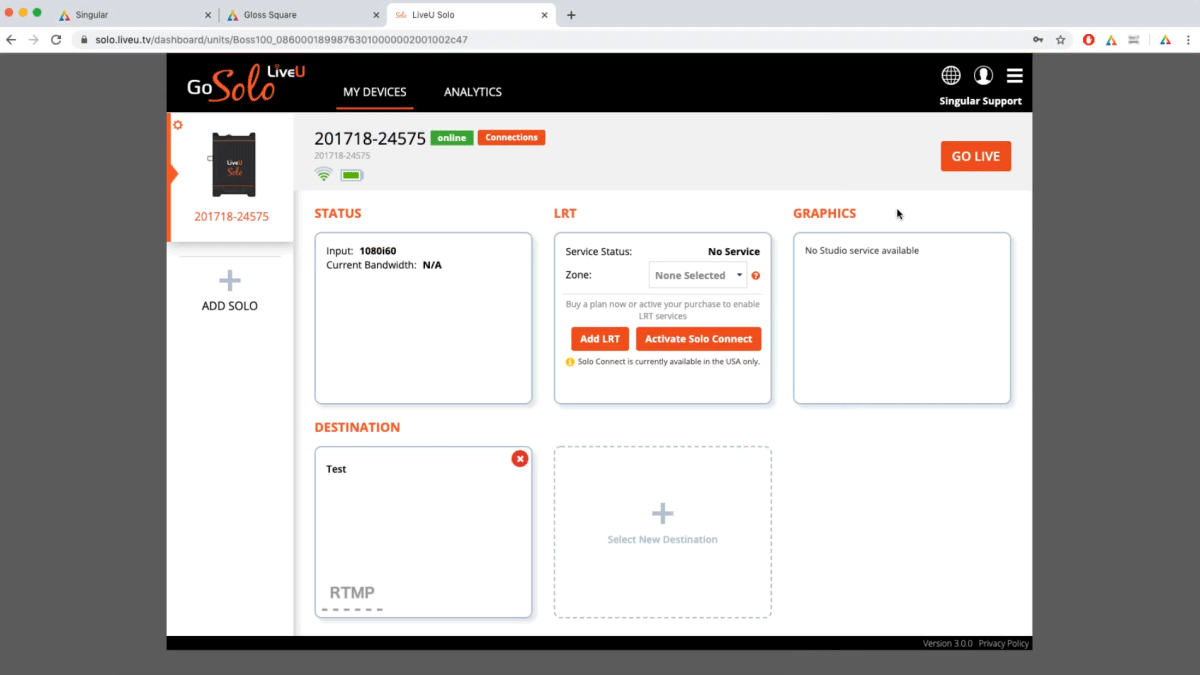 Selecting "GO LIVE" button
When the RTMP it fully live, "Now LIVE" this will appear in red under your device in the upper left corner: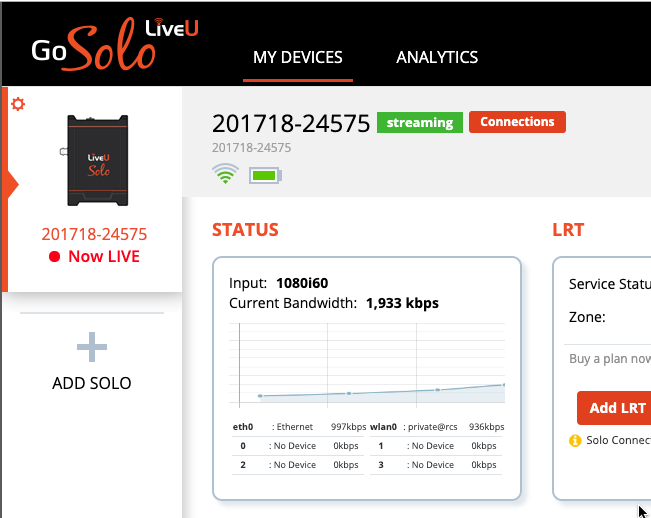 "Now LIVE" will appear under your device
Now that your LiveU video is LIVE, the video should appear within Lightstream. It may take a few minutes for the RTMP source to be received in Lightstream.
LiveU RTMP Video Source Received in Lightstream
E - Add Singular Overlays into Lightstream (via 3rd Party Integration)
Now that your video feed is looking good, you're ready to add your Singular overlays. The next step is to click the plus (+) button next to LAYERS, select 3rd Party Integrations, and choose Singular.live.
Adding Layer, Choosing 3rd Party Integrations
Choosing SINGULAR.LIVE
Singular.live Layer Added
Now that you've added your Singular.Live layer, you'll have to paste in your Output URL. Jump back over to your Studio show that you've prepared, hit the "Share" button in the upper right, and copy the Output URL.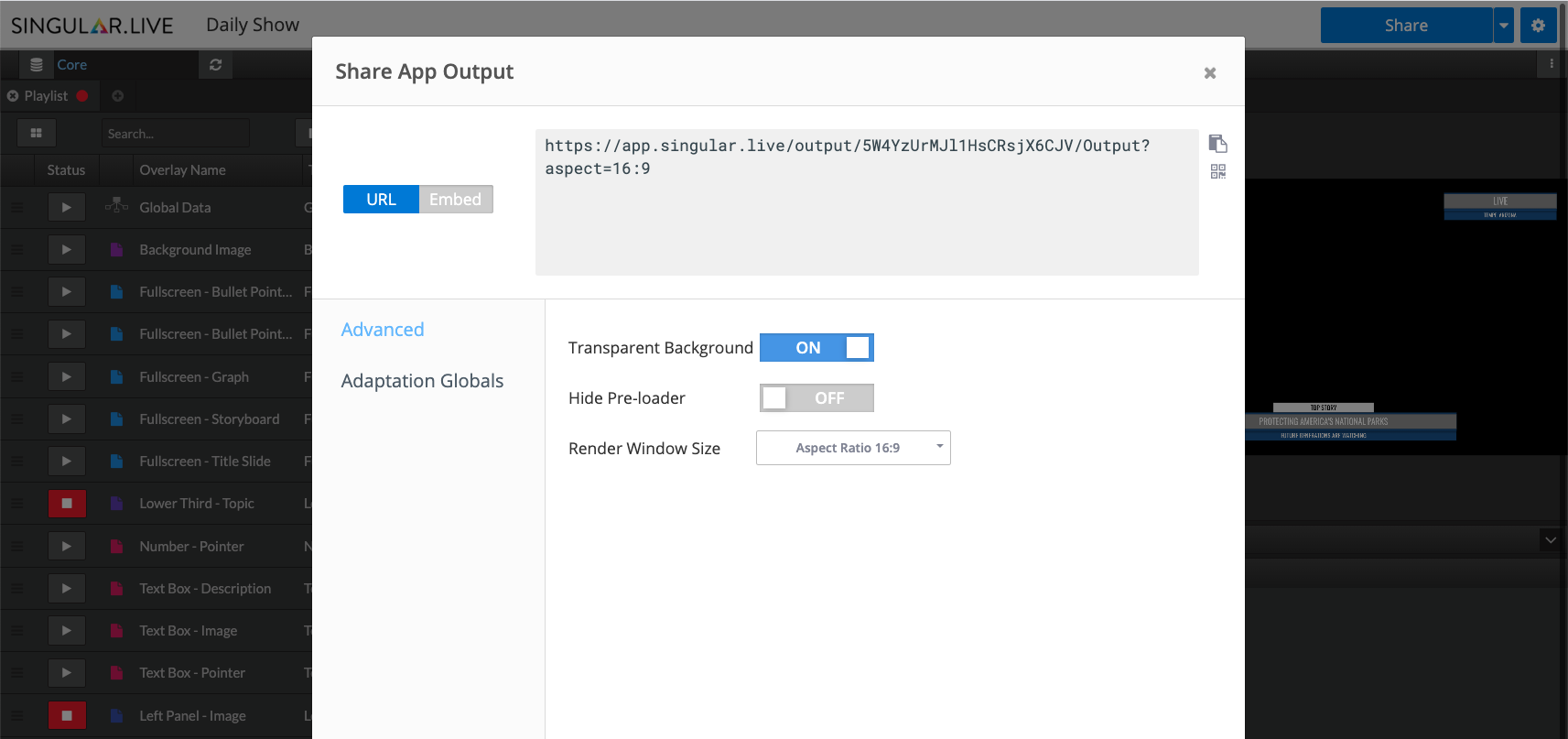 Copying Output URL From Studio
Finally, paste it into the Singular Output URL space in Lightstream.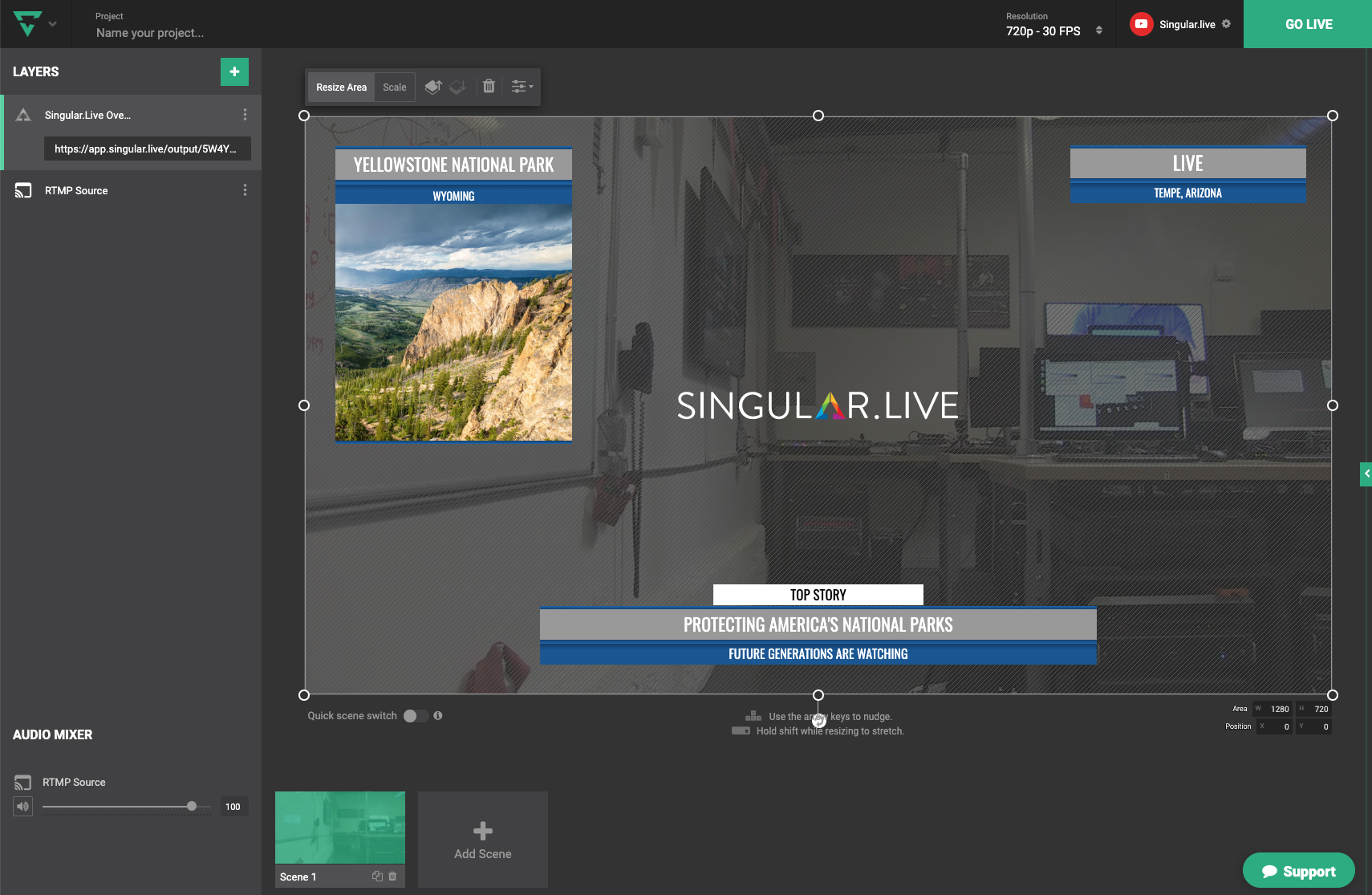 Pasting Output URL into Lightstream Layer
Note that the Singular.live logo in the center only appears when this layer is selected in Lightstream. Choose the RTMP layer and see that it disappears. It will not appear in the live output.
F - Stream to Destination!
Your LiveU video is being sent to Livestream and your Singular overlays have been added. You're ready to stream this live sandwich to your desired destination by hitting "GO LIVE" in the upper right corner of Lightstream.
Note
Note that Lightstream provides static RTMP keys so whenever you want to go live again using this same workflow, none of these settings have to change. All you have to do is go live with your RTMP video in LiveU, make sure your video feed is coming nicely into Lightstream, your Singular overlays are looking good and then hit GO LIVE.