The Bodymovin Widget allows you to use shape layer animations exported from Adobe After Effects in your compositions when building in Composer. These animations load faster and are higher in quality than .gif files.
1 - Install Bodymovin plugin
Download the plugin here: https://aescripts.com/bodymovin/
2 - Create your animation in After Effects
Bodymovin converts shape layer animations to JSON files, so be sure your animation uses only shape layers.
3 - Export using Bodymovin plugin
Check out the video below from the Bodymovin website for how to export using their plugin.
Note
When exporting your JSON from After Effects, make sure to check "Advanced > Export old json format" in order for the JSON to be compatible in Singular. See the image below:
Select Advanced export features and then choose "Export old json format"
4 - Import JSON into Singular Dashboard
Drag the JSON file from your computer into your desired folder within Singular's Dashboard to import it onto Singular's servers.
Drag and drop the JSON file to import
5 - Open Singular JSON file and copy URL
Double click the JSON file within your Dashboard to open it, then copy the URL of the JSON.
Copy the JSON URL
6 - Add Bodymovin Widget
Access the Widget Library to add the Bodymovin Widget to your composition.
Select the Bodymovin Widget from the Widget Library
7 - Paste URL into widget property field
Navigate to the Bodymovin property tab in the Property Panel, then paste the JSON URL into the proper field.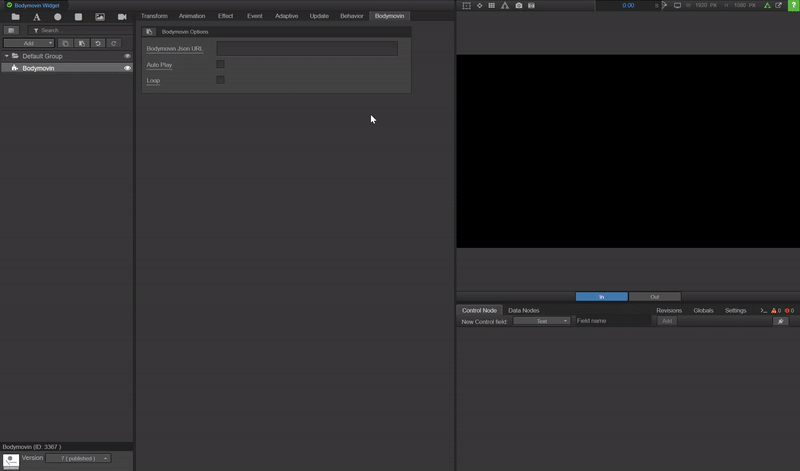 Paste the JSON URL
8 - Add auto-play and looping
If you wish, check the boxes for auto-play and loop to get your Bodymovin animation to begin automatically and loop endlessly.
Adjust the Auto-Play and Loop properties
9 - Adjust Animation length
Because every widget you add automatically is given Singular's default animation length, you'll want to manually adjust the length of the widget's animation, within the Animation tab, to ensure it isn't shorter than the length of your Bodymovin animation. If the Singular animation is shorter, the Bodymovin animation could get cut off.
Important
If the Singular Animation timeline is shorter than your imported animation, the Bodymovin animation could get cut off. So . . . double check your timeline animation length!
Adjust the timeline animation length if needed