Wirecast is a desktop-based live video streaming production tool by Telestream. It allows users to create live or on-demand broadcasts for the web.
Prepping the Overlays
Before you can output your overlays with Wirecast, you have to prep them in Studio. If you already know how to do this, skip this step.
Preparing Your Singular Overlays in Studio
A - Log into Singular, Download a Theme
Sign up for Singular (if you haven't already), log in to your Dashboard, and download a free theme from the Marketplace. To access the Marketplace, hit the "New" button in the upper left corner and select "Market".
Selecting "New" and then "Singular Market"
Downloading a theme
If you need a more thorough explanation, check out a quick tutorial on how to do the previous steps, here. 
B - Open up your theme into Studio, prepare your overlays.
Right click on your newly downloaded theme, select "Open with" and then choose "Studio". This is the Control Application you will use to prepare and operate your live overlays.
Right clicking on theme, selecting "Open with" and then choosing "Studio"
Prepare your overlays by choosing the "Auto Playlist" button from the three dot menu in the upper right corner and then updating the contents of the overlays within the Overlay Editor.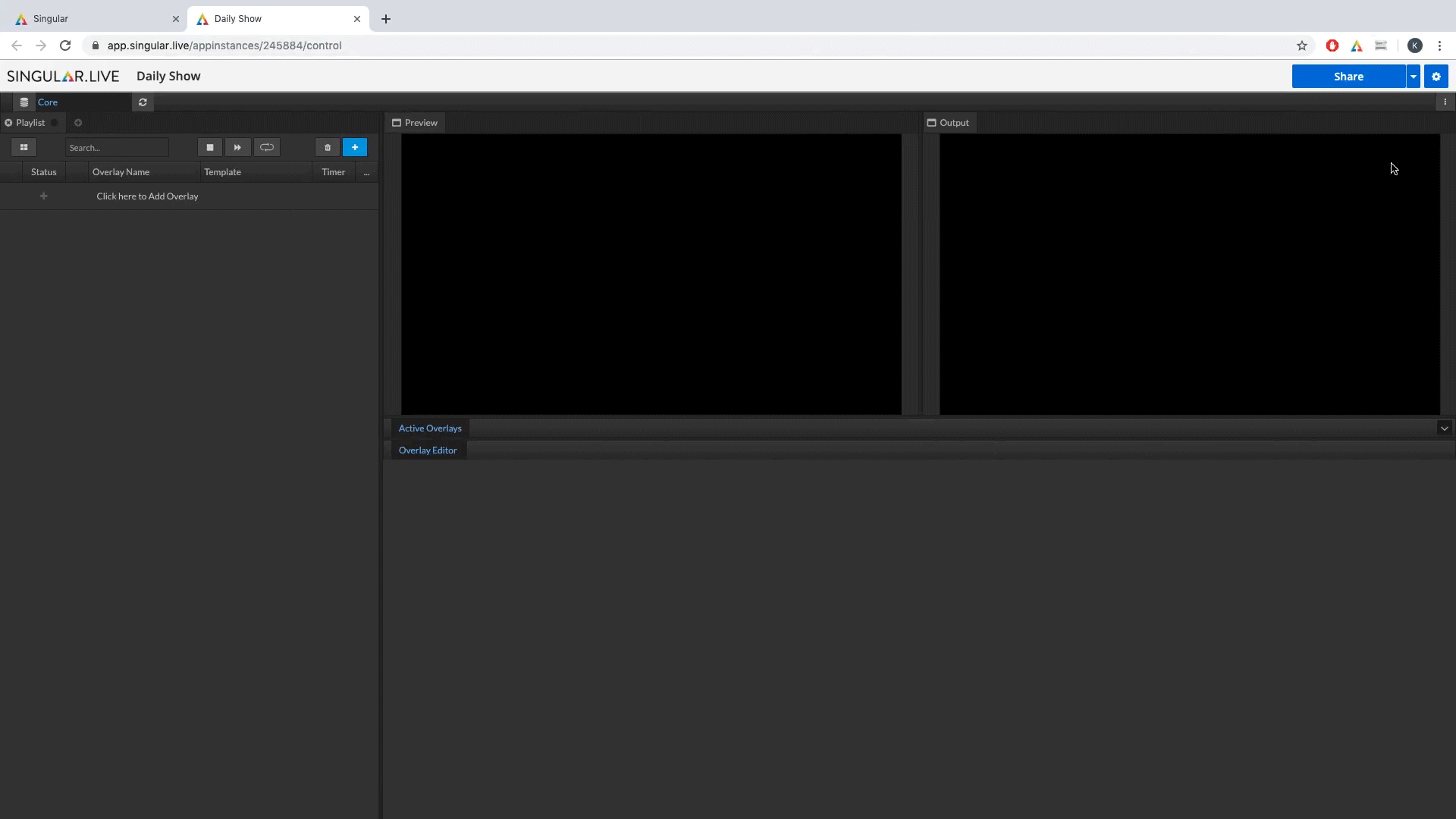 Selecting "Auto Playlist"
Editing overlay contents in the "Overlay Editor"
To learn more Studio overlay operation tips, click here. 
Outputting with Wirecast
The following is a tutorial on how to add your Singular overlays into Wirecast:
1 - Add Web Display
To add Singular in Wirecast, you will need to click on the "+" button, and select "Web Display" from the Backgrounds option
Click the "+" button and select "Web Display" from the Backgrounds option
2 - Adjust Information
In the "Web Display Properties Panel", (1) Give your new graphics layer a name. (2) Paste your Singular Output URL to the "address" field provided. (3) Set your output resolution. (4) Select "Transparent Background"
Adjust the information
3 - Scale to Fit
Go to the Settings tab and select "Scale to Fit" for your Singular graphics fill the whole output screen.
Fit your new Singular overlay layer to frame by selecting "Scale to Fit"
Note
Set your width and height to match your output format (ex. 1920x1080)
If you are not seeing your graphics, make sure:
A) you have a graphic in your control app on-stream to see (output window)
B) and that your new graphics layer is on top of all video layers.