This article assumes you have a Spark open and Overlays to edit. If you need to start a Spark show, see this article.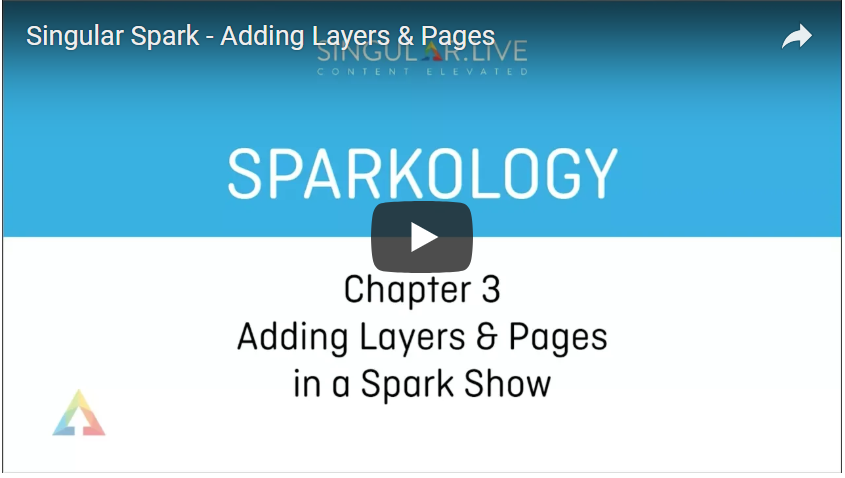 Note
This video is part of a 7 chapter series which follows the Spark User Manual
1 - Edit Mode
Make sure that you are in "Edit" Mode.
2 - Click to edit
Click on the overlay button you want to edit the content for.
3 - Page Editor
The Overlay Editor for that particular template will appear for you to hack away at.
Note
If you're using a Singular Theme from the Marketplace, the editable fields have been named to identify the type of content which applies for the template. That said, you can change your conte to read however you see fit.
4 - Text editing
For editing text. simply click the box you want to edit and chance the text. You should see the change take place in the overlay if you are already previewing it.
5 - Image editing
Since Singular is web-based, you need a web-link URL to the image you want to see in the template. You can on the icon next to the filed and it will take you to your dashboard to find the image asset you want to use. If your desired image isn't already among your assets, you can click the "New" button and select "Upload Asset." You can also simply drag and drop an image into the image selection bar. Alternatively, you can copy and paste a link into the field, if you feel like doing it the old fashioned way.
Note
Singular.live is cloud-based, which means the images you use for your show are best uploaded to your dashboard (your cloud) as an asset. That being said, you can also grab image URL links from the web. Find your image and copy its "Image address" web-link.
6 - Transforming
Some templates will allow you to make a transformations to them. These transformations can be represented as number scale, or a sliding scale.
If you're using a Singular.live Theme, we add controls to scale up or down some images ("Freeform Images"), as well as the opacity of the images.
7 - Save your work
Click the Save button in the bottom right once done with your editing!