Note
This video is part of a 7 chapter series which follows the Spark User Manual
Have to start somewhere, and Spark begins with adding a Layer.
1 - Make sure you're in Edit Mode
If you are opening a Show for the first time, it is defaulted to be in Edit mode.
2 - Click "+ Add New Graphic Layer" Bar
If the blank Layer bar button with the big "+ Add New Graphic Layer" text on it didn't tip you off, try clicking on it and see what happens. It will ask you what type of Layer you want to add.
3 - Select a Layer
Each individual text title represents a Layer you can add to your show.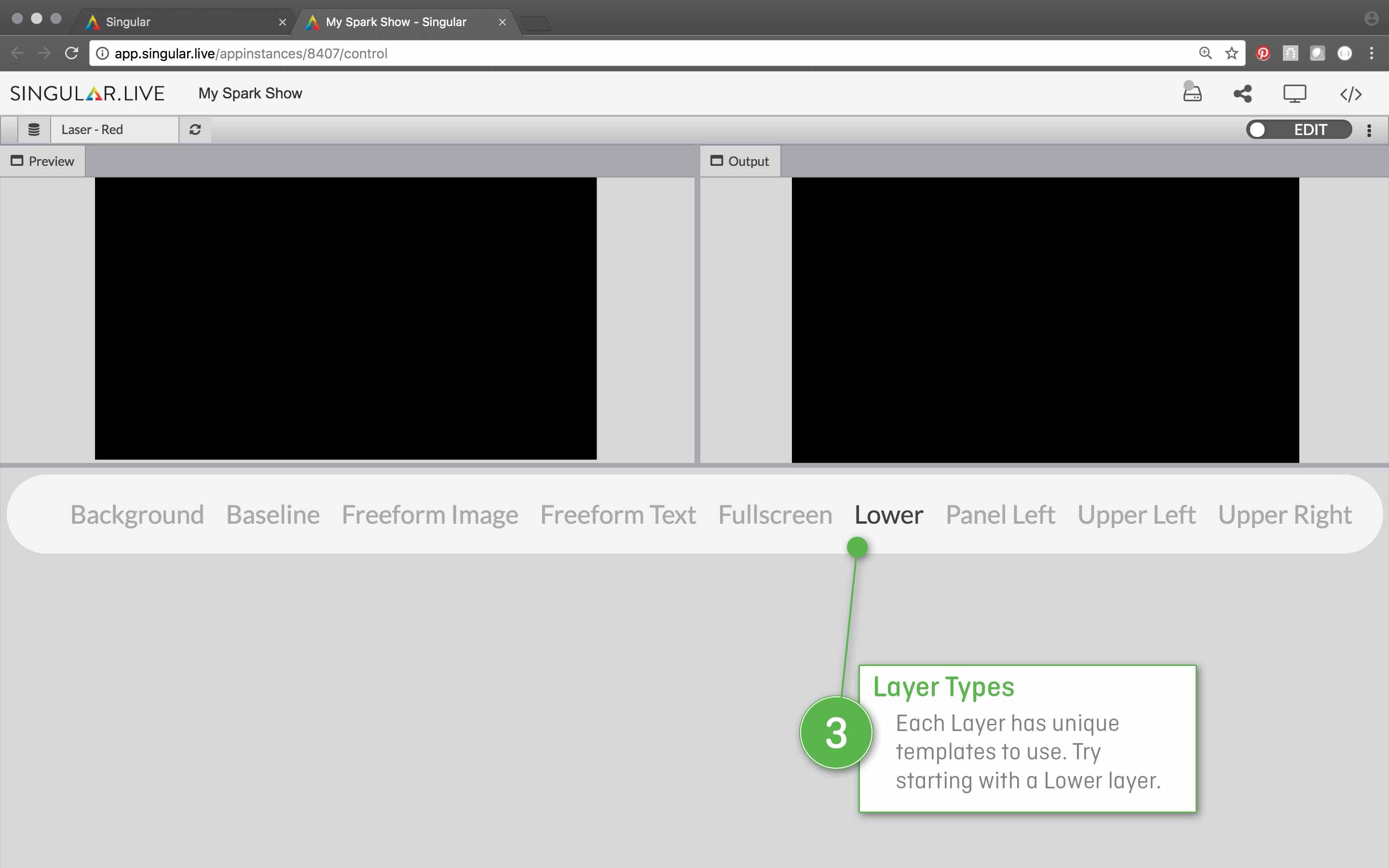 Note
Each theme has a unique set of Layers. If you are using a Singular Marketplace Theme, we name them based on the group of templates sharing the same screen space. So, for example, if you click on the "Lower" layer, this Layer contains a group of Templates all using the lower section of the screen.
4 - New Layer Added
The new Layer appears in the Show Layer section of the app with fancy color-coding and label!
Note
You can continue to add layers as needed based on your content.
5 - Click "+" button to add an overlay
To add an overlay in the Layer, click on the "+" button (still in "Edit" Mode). This will prompt a dropdown menu with a list of the available Templates you can make a unique overlay from. Make a selection!
Note
Shortcut: You can Control+Click (Right Click) in the Layer bar to get more choices, including adding an overlay from a template in the Layer
6 - See your new overlay
Your new overlay will show up in the Layer.
Note
You can continue to add overlays in the Layers as needed based on your content.
7 - Preview your new overlay
Please, feel free to hover over the new overlay button you created to reveal it in all it's splendor in your Preview window.
BONUS ROUND!
You can figure this out with the above, but might as well take the extra 3 minutes to get some fundamental ideas about Layer and overlays here!
Singular "Layer Logic" creates rules for a Theme if built properly, and our partner at Reality Check Systems have built the best of them for your use at Singular.live Market.
It's simple rules:
#1 - Layers only allow one active overlay on-stream at a time. This keeps the user from having to worry about overlapping overlays.
#2 - If you take overlays built from the same template back-to-back, the body of the template will stay on-stream, and only the updating of new overlay content will occur.
#3 - If you take overlays from different templates in the same Layer back-to-back, they will replace one another.